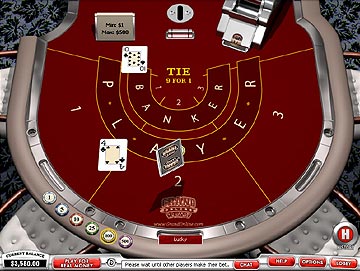 Baccarat
Baccarat is played throughout most of the world. However, it's a game that is most often played by high rollers. It's not uncommon for a casino to win or lose millions of dollars in one night because of what happens at the baccarat table. It's also a game that has the biggest effect on a casino corporation's quarterly earnings.

The game of baccarat is not only special because it is played by the wealthiest people in the world. It's also special because almost every casino that offers baccarat has a separate room set aside for the game. In a live casino, you will find roped-off private rooms. In an online casino, it's not possible to play baccarat in a private room unless you're invited. The only way to receive an invite is to play baccarat at that online casino for an extended period of time.

Whether you choose to play baccarat live or online, the minimum bet is usually between $25 and $500. The maximum bet is usually listed at $10,000, but this can be changed upon request. Those who like to be treated like royalty should visit a Las Vegas or Atlantic City casino. These are the two prime spots for baccarat, even on a global level.

Did you know that baccarat is one of the oldest games in the world, stretching all the way back to the 15th century? Backgammon is known as the oldest game in the world, but baccarat also has its share of history. Since it's a game that has always attracted the wealthiest of men, there are great stories of love and loss related to baccarat. Today is a less violent and more predictable world. Combine that with baccarat being offered by highly secure casinos and it's a much more appealing game than in the past.
Punto banco is the most popular form of baccarat. It's played in the United States, Europe, Australia and Macau. It might come as a surprise to some people that punto banco is the most popular form of baccarat considering it's a game of chance.
Other forms of baccarat require some strategy. However, the reason for punto banco's popularity is simple – it's a game with a low house edge. The odds for the house when you bet on the Player are only 1.24%. The odds for the house when you bet on the Banker are only 1.06%. The latter also includes a 5% commission. Either way, you're ahead of most games in the house, including European roulette. The odds for blackjack can be better if you're playing perfect Basic Strategy and/or counting cards.
An important tip: never bet the tie in baccarat. This bet represents a 14.4% edge for the house. You will find better odds in Europe at 4%, but this is still too high.